Kimberly's Creations
Seed Bead Payment Form
Page Viewed Best When Maximized

You have ordered one of the seed bead daisy chain bracelets/necklaces offered below. They consist of six petals with no leaves. They come in tourquoise, red, yellow, and white, alternated with black. The colored flowers have black centers and the black flowers have colored centers.
Note: You will not recieve the exact bracelet/necklace pictured, but one will be made just like it to your desired length.
Item will be made/sent when payment has been received.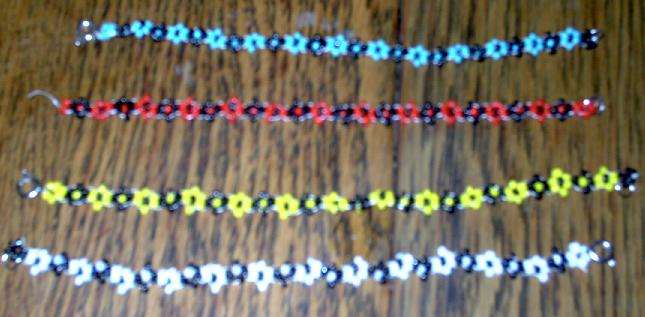 Please select one of the following payment choices:

| | |
| --- | --- |
| For bracelets (0 to 10 inches) -- $10 | For neclaces (over 10 inches) -- $17 |
I will also accept check/money orders. Please email me to request the mailing address to send payment to.